Our Clients
The success of our clients is our motivation. We are proud to provide them with our support, share our knowledge and expertise to deliver great results with a lasting impact.
Government of Nunavut
We hel

ped the government of Nunavut with the upgrade of their database technologies, thus allowing biologists work more efficiently in the field. ALT continues to be an active vendor in providing effective solutions to the science community in Nunavut.
CHEO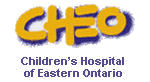 We developed and delivered an innovation that is changing the way Children's Hospital of Eastern Ontario approach web development projects. ALT continues to assist and provide consultations on many levels - from the initial steps of an RFP development to post-launch help with optimization of web technologies.
Government of Canada

We supported several Crown Corporations and Departments of Canadian government in driving radical change to their IT strategy and organisation, thus helping management to conserve funds in tough fiscal times, while maintaining the quality of service.
Liberal Party of Canada

We created a shared hosting environment for the Liberal Party of Canada, allowing them to increase the availability and stability of their website and database infrastructure.
Department of National Defence

Our consulting services helped the Department of National Defence make educated decisions on which technology to use in practice. ALT's experts worked closely with DND's Combat Camera to deliver a technology-rich product.
Queens University

We worked with Queens University to rescue a web development project and to implement a solution on time. Our consultants were able to resolve outstanding issues and implement a solution on very tight deadlines.
High Commission of Rwanda

By bringing together a team of experts with a passion for IT innovation and deep technical knowledge, we have helped the High Commission of Rwanda define and build the right digital vision for their Canadian operations. Going beyond an IT support shop, we have shown them where they can cut cost and improve operational performance.
Distech Controls Facility Solutions

We helped Distech Controls to transform their innovation performance for long-term success by combining our technology knowledge with our expertise in strategy creation, product and technology development processes. Our Managed IT solution services allowed the company to save thousands of dollars in IT support aspect of call centre operations.
To find out more about the exceptional results we can create for your business, please contact us now.